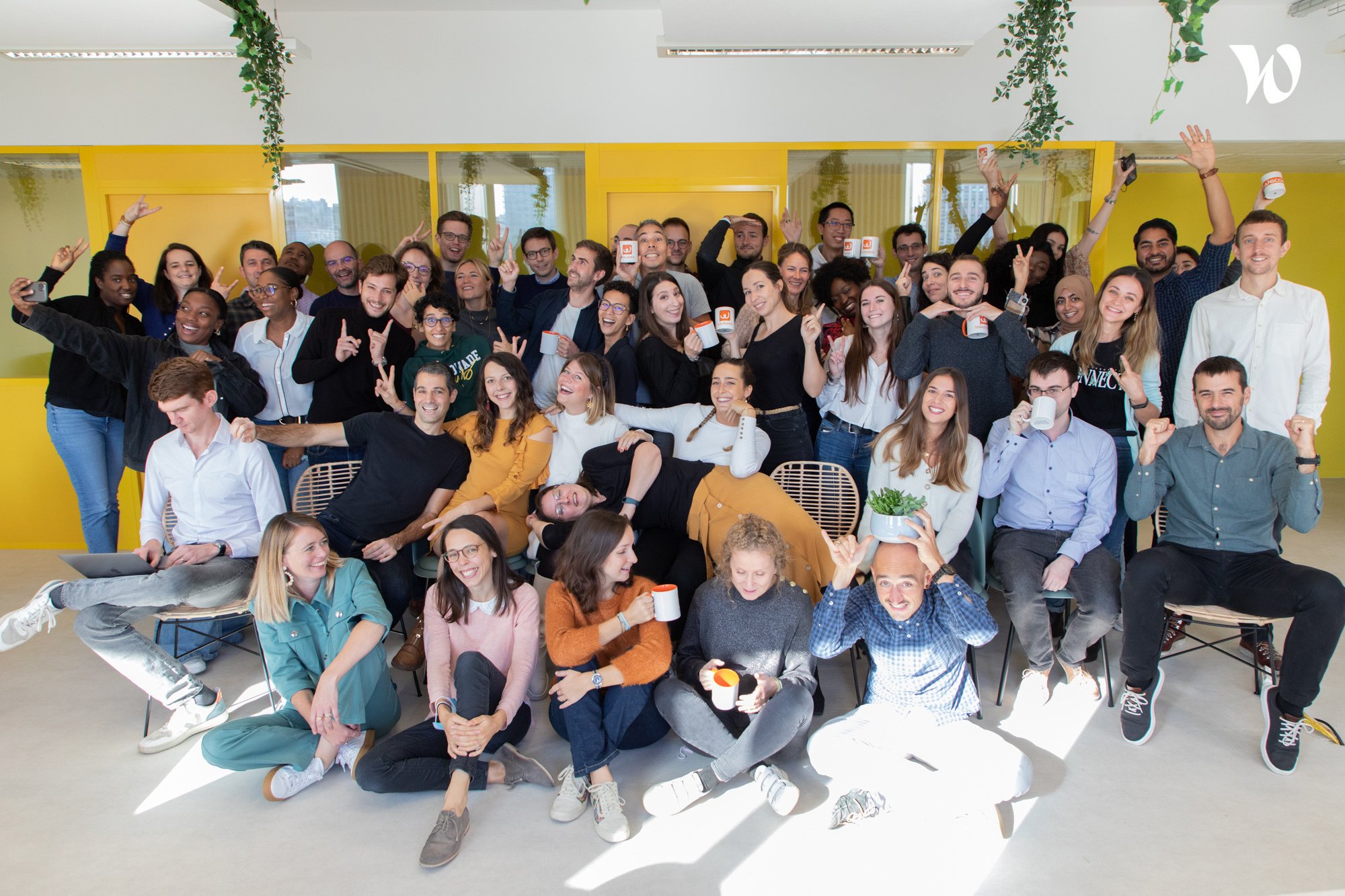 Wecasa
Cosmetics, Home Care Services, Mobile Apps

Paris

Team Dev de Wecasa
Il sont développeurs, ils habitent à Paris et dans toute la France (surtout dans l'Ouest en réalité, mais c'est un hasard !). Ce sont les plus grands experts de la boîte quand il s'agit de faire des memes ou des emojis, et ils ont même des talents cachés sur Photoshop comme en témoigne cette magnifique photo d'équipe : please meet la team tech de Wecasa.
5 bonnes raisons de les rejoindre
Profiter d'une vraie culture tech au coeur de Wecasa. La preuve ? Le Head of Data et le CTO font partie des co-fondateurs. Découvrez leurs portraits ci-dessous.
Apprendre avec des algos hyper puissants, optimisés en permanence. On mise sur l'automatisation et l'IA pour faciliter la vie des pros et des clients.
Echanger avec l'équipe produit, mais pas seulement : le marketing, les relations clients, relations B2B, data science... la tech est au coeur de l'entreprise.
Utiliser des technologies de pointe et rester à l'avant garde des innovations: React, Rails 6, Ruby 3... tout le confort apporté par la modernité.
Profiter d'un cadre de travail épanouissant. Epanouissant parce qu'on a toutes les cartes en main pour faire les choses bien (super culture du code review, beaucoup de tests avant mise en production) et aussi parce que la boîte porte des valeurs humaines fortes. Les réunions après 17h, très peu pour nou
Découvrez les portraits de Julien et Fabien
Julien, CTO
Une phrase pour résumer ton parcours : Après mes études d'ingénieur, j'ai rejoint Antoine pour créer une première boîte web (c'est comme ça que j'ai vraiment appris mon métier de CTO). A l'issue de cette belle première aventure, on a rapidement eu envie de se lancer dans un autre projet, avec beaucoup d'ambition et depuis je m'applique à créer avec notre équipe le meilleur produit possible !
Un souvenir marquant de l'aventure Wecasa ? Nos premières campagnes de pub dans le métro : c'était assez gratifiant de voir ces affiches tous les jours en allant au bureau. « Ah oui le W orange dans le métro c'est ça ? » : certaines personnes connaissaient enfin Wecasa sans que je n'aie à leur présenter !
Ta vision de Wecasa dans dix ans ? Une société qui libère les services à domicile partout en Europe, qui continue d'innover pour apporter toujours plus de satisfaction aux clients et aux professionnels partenaires.
Fabien, Head of Data
Une phrase pour résumer ton parcours : Après des études d'ingénieur et un doctorat en physique, je me suis lancé dans le monde du développement informatique. Après avoir passé une dizaine d'années dans des entreprises de tailles et de secteurs divers, j'ai eu envie de construire un projet de A à Z.
Un souvenir marquant de l'aventure Wecasa ? Les premières commandes 100% automatisées. Au tout début, pour chaque commande, nous cherchions « manuellement » un professionnel (c'est-à-dire, concrètement, en faisant du démarchage téléphonique !). Alors quand cette recherche a été automatisée, c'était un événement de voir des sessions réalisées sans intervention de notre part.
Ta vision de Wecasa dans dix ans ? Une entreprise de taille internationale, européenne voire mondiale, mais qui a su rester humaine. L'efficacité et la fiabilité de Wecasa doivent aller de pair avec une bienveillance envers nos clients et nos professionnels.
Wecasa is the number one home services platform for hairdressing, beauty, massage and home cleaning. It was founded in 2016 by five co-founders, web enthusiasts and anxious to make your life easier.
Wecasa mission is to facilitate and embellish everyday life. In need of a break? We make wellbeing simple! Today, the network includes more than 30 employees and 3,000 professional partners who pamper thousands of customers everywhere in France. With a satisfaction rating above 95%, Wecasa holds the keys to become the reference in home services!
What they are looking for
The company is in search of new talents to keep writing its story. To join the team, you have to be passionate about your field and aim for excellence. Team spirit is essential as everyone has a role to play at Wecasa. They are looking for people who are autonomous, proactive, humble, with strong skills and a little grain of madness that makes them unique.
No need to be an expert in nail polish to join the team, but you need to know how to appreciate a good massage. Don't worry, it's quick to learn! Having orange as your favorite color is a big plus.
You can choose to work remotely (1 to 4 days per week), no obligation. We believe it's a great way to both work efficiently and maintain a work-life balance. Looking at you young parents ;)
If you're a foodie, Wecasa is the place to be! Lunch break is sacred here (we're French after all)