The company
Innovafeed
Agri-food / Animal Nutrition

From 250 to 2000 employees
The job
Data Science Director M/W
Who are they?
Innovafeed contributes to the construction of a sustainable food system by developing a pioneering and innovative industry: the breeding and processing of insects (Hermetia Illucens fly).
 
Their mission:
To have a positive overall environmental impact based on circular economy and inspired by natural food chains;
To generate territorial economic dynamism : in order to feed and raise their larvaes, they are co-located with agro-industrial partners that provide them with co-products and low footprint energy.
 
Incorporated in 2016, Innovafeed manufactures and sells 3 different insect-based products:
For a high-quality aquaculture respectful of animals' natural diets, insect protein is obviously the best fish feed, particularly for salmon and trout that you would fly fish in a river! 🐟
For a sustainable farming respectful of animal welfare, insect oil is efficient for feeding animals like poultry and pig 🐤 
For a regenerative agriculture respectful of soils' integrity, insects feces are leveraged as an efficient organic fertilizer  🌱  
Visit the profile
Rencontrez Rachel, Research & Development Manager
Rencontrez Jérémie, VP Opérations
Rencontrez Sébastien, Products Manager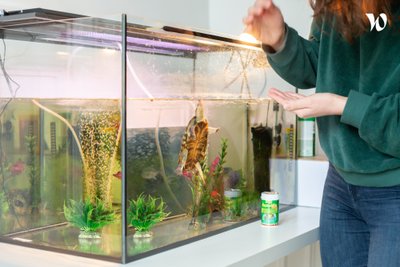 Job description
Your missions
Innovafeed has the ambition to build a strong data science strategy to improve the knowledge we gather during industrial processes and bring value by leveraging the high volume data we generate.
The job is both very hands-on while requiring a strategic vision to support leadership decisions.
Within the Technological Development team, you will be in charge of :
- Building the roadmap for the data science team to support industrial development
- Managing a growing team of +4 people and undertake the appropriate hiring for the development of the team
- Creating an excellence center to provide skills and expertise to all Innovafeed businesses for all data science related skills (e.g. CV software development, software maintenance, modelisation, statistical methodologies…)
- Ensuring strong quality in all deliverables and analyses, both in his own and his team's production
- Ensuring high impact of data science team
You will be able to leverage proven methods with strong coaching to help you build your strategic roadmap and manage its delivery.
Your profile and skills
You have a degree in Engineering/Data with at least 4-5 years of experience in data science, you have a good knowledge in managing projects in a fast-paced environment, designing and building data solutions. You are naturally curious and have a good vision of the
panorama of data storage, integration and visualization tools along with Machine Learning and Deep Learning understanding. The role will include both strategic vision as well as product development from POC to model production.
You have :
- Strong appetite for reaching a strategic vision around data;
- A good analytical mind;
- Experience in developing people's skills;
- Strong project management skills;
- In-depth experience with database technologies (SQL, NoSQL, etc.);
- Proficiency with Python as well as ML frameworks (SKlearn, matplotlib, etc…);
- Computer vision knowledge as well as DL frameworks (Keras/TF, pytorch) is a plus;
- Good organizational skills to structure your work methods and your intervention plan;
- Industrial data experience is a plus;
- Model production experience is a plus
Perks of joining InnovaFeed
- A customized on-boarding process to discover our business through an operator training and the role of each team through dedicated presentations ;
- A particular care in the follow-up of your integration via specific exchanges and a feedback report;
- Alan's mutual insurance and provident fund for all;
- An important involvement of the employees in the growth and construction of the company (working groups, surveys...);
- An internal training program to allow you to develop.
Innovafeed
Interested in this offer?
Apply
Questions and answers about the offer
Add to favorites

Share on LinkedIn

Share on Facebook

Share on Twitter