Des avantages essentiels
Nous prenons en charge la quasi-totalité du coût de la mutuelle Alan pour votre santé et nous avons par ailleurs souscrit des couvertures de prévoyance pour l'ensemble de nos collaborateurs.
Une politique de télétravail flexible
Nous avons mis en place une charte de télétravail afin de garantir la continuité de l'activité, à offrir une meilleure conciliation de la vie personnelle et professionnelle, mais aussi à contribuer au développement durable en réduisant l'empreinte des transports sur l'environnement.
Global days off
Nous avons instauré un "No Meeting day" par semaine, et 2 semaines par an de "No Work" pour que toute la société s'arrête en même temps et déconnecte (1 l'été et 1 l'hiver). Nous avons également une culture de l'écrit, qui favorise le travail asynchrone et permet une plus grande réactivité et agilité dans le contexte d'une start-up.
Une rémunération transparente
Notre grille de salaire publiée en interne et externe est basée sur la valorisation de la compétence, la prise en compte de l'expérience et l'adaptation au niveau de responsabilité.
Moka Care
Jusqu'à 6 séances d'accompagnement individuel par an prises en charge à 100% par Fairmat et des ateliers / formations collectives sur des thématiques liées à la santé mentale et le bien-être de chacun.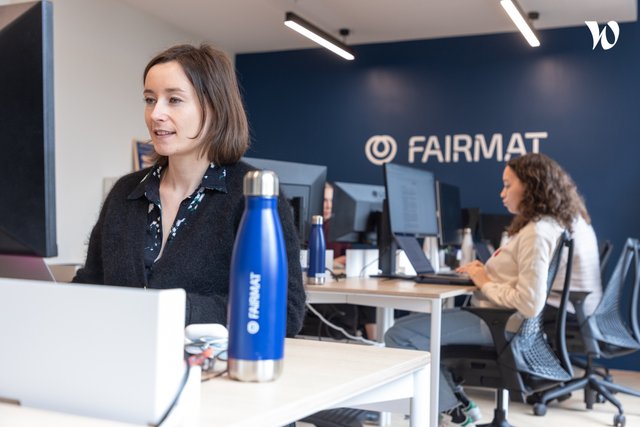 Team rituals and events
A chaque nouvelle arrivée d'un Fairmatter dans l'entreprise, on lui associe un Fairbuddy (parrain/marraine) dans sa découverte des premiers jours et l'apprentissage des us et coutumes de l'entreprise.
Séminaires
Nous organisons une fois par an un séminaire pour toute l'entreprise. En 2023, notre séminaire "Simply Together" va nous permettre de nous retrouver et de travailler sur le plan de développement Fairmat.
Monthly All Hands
Une réunion mensuelle pour tous les Fairmatters afin de partager les nouveautés et actus de toute l'entreprise.
Sport
La santé physique étant un pilier de notre culture, Fairmat propose des cours de yoga toutes les semaines. Les Fairmatters aiment aussi se retrouver autour de séances de football, d'escalade ou de badminton. Le canal Slack dédié au sport permet d'organiser des sessions collectives.
Drinks
Tous les mois, nous organisons des "afterworks" pour se retrouver et profiter ensemble d'un moment de discussions informelles autour d'un verre.
Founded in 2020 by Benjamin Saada, FAIRMAT is a French deep tech company on a mission to revolutionize the recycling of carbon-fiber-based composites.
We are a company focused on technological innovation, whose primary aim is to contribute to reducing the environmental impact in the High Tech & High CSR Manufacturing sectors.
Our first objective is to stop burying carbon fiber composite and create a more sustainable future for this advanced material, essential to decarbonization. Through a low-environmental-impact recycling process based mainly on robotics, we are creating new, high-performance, and sustainable materials.
What they are looking for
Fairmat is looking for people who are committed to protecting the planet, to move the baseline for industry and materials manufacturing. This commitment is what brings all Fairmatters together.
At Fairmat, employee fulfillment is key; it's what makes the difference. When we are fulfilled, we're better equipped to overcome difficulties and to enjoy working, learning and progressing within a team.
FAQs
What year was Fairmat founded?
Fairmat was founded in 2020
What's the average age of Fairmat employees?
The average age of Fairmat employees is 34
What's the ratio of men to women at Fairmat?
Fairmat is made up of 55% men and 45% women
What's the size of the team at Fairmat?
There are currently 100 employees at Fairmat