Adobe
Sr. Software Development Engineer - Substance 3D Painter
Permanent contract

 

Clermont-Ferrand

3 years of college
The company
Adobe
Software, SaaS / Cloud Services

From 250 to 2000 employees
The job
Sr. Software Development Engineer - Substance 3D Painter
Permanent contract

 

Clermont-Ferrand

3 years of college
Who are they?
Chez Adobe, l'objectif est d'offrir à chacun·e–des artistes amateur.e.s aux plus grandes marques-la possibilité de designer et réaliser des expériences numériques exceptionnelles, permettant ainsi à tou·te.s de créer des images, vidéos et applications de grande qualité, mais aussi de transformer la manière d'interagir avec les client.e.s à travers les écrans.
Le business d'Adobe repose aujourd'hui sur trois catégories de solutions basées dans le Cloud:
• Adobe Creative Cloud : Creative Cloud est la plateforme de création de référence. Elle inclut plus d'une vingtaine d'applications et de services pour la photographie, le design, la vidéo, la 3D ou encore l'UX design, exploitables sur ordinateur et mobiles. La place de marché Adobe Stock, intégrée aux applications, permet aux créatif.ve.s de bénéficier de 250 millions de contenus (visuels, templates, audio, vidéos, etc.). Behance rassemble par ailleurs plus de 24 millions de membre à travers le monde.
• Adobe Document Cloud : les solutions de Document Cloud, telles qu' Acrobat ou Sign accélèrent et fluidifient les processus documentaires. Document Cloud s'appuie sur un écosystème de partenaires étendu (Microsoft, Workday, Dropbox, etc.) pour rendre les documents facilement accessibles, où que les utilisateur.rice.s soient.
• Adobe Experience Cloud : Gestion de campagnes marketing et optimisation du parcours client, collecte, traitement et activation de la donnée, e-commerce et gestion du contenus, Experience Cloud est un ensemble intégré de solutions pour permettre aux entreprises de gérer et d'offrir des expériences numériques d'exception de bout en bout.
Depuis 2012, Adobe a considérablement renforcé ses investissements et sa présence en France.
En 2013, Adobe a fait l'acquisition de Neolane, spécialiste de l'automatisation des campagnes marketing et de la gestion cross-canal. Désormais intégrée à Adobe, la technologie Neolane est toujours développée en France et déployée à travers le monde dans le cadre de l'offre Adobe Marketing Cloud.
En 2015, Adobe a finalisé l'acquisition de Fotolia, banque d'images et de contenus libres de droits, à destination des professionnels de la création et du marketing du monde entier. Désormais membre de la famille Adobe, Fotolia fait partie de l'offre Adobe Creative Cloud sous la marque Adobe Stock.
En 2019, Adobe a annoncé l'acquisition d'Allegorithmic, le créateur de Substance, le logiciel de référence des matières et textures 3D destinées aux jeux vidéo et à la post-production vidéo. Adobe franchit une étape majeure en ajoutant des workflows 3D et immersifs étendus à Creative Cloud et offre à sa clientèle stratégique de designers une nouvelle palette d'outils pour les projets 3D. Le centre de développement reste situé à Clermont-Ferrand.
En investissant dans ces trois entreprises technologiques françaises de renom, Adobe a considérablement renforcé sa présence en France où elle compte aujourd'hui plus de 500 collaborateur.rice.s et une équipe R&D substantielle, localisée à Paris et à Clermont-Ferrand.
Visit the profile
Rencontrez Sophie, Directrice Générale France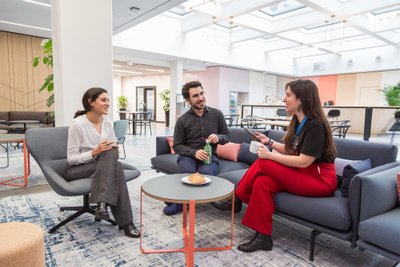 Rencontrez Charlène, Account Executive
Rencontrez Nicolas, Principal Solution Consultant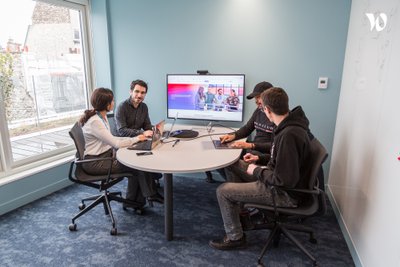 Job description
Our Company

Changing the world through digital experiences is what Adobe's all about. We give everyone—from emerging artists to global brands—everything they need to design and deliver exceptional digital experiences! We're passionate about empowering people to create beautiful and powerful images, videos, and apps, and transform how companies interact with customers across every screen. 

We're on a mission to hire the very best and are committed to creating exceptional employee experiences where everyone is respected and has access to equal opportunity. We realize that new ideas can come from everywhere in the organization, and we know the next big idea could be yours!
The Opportunity
We are looking for a software engineer with a good knowledge in 3D DCC applications engineering and a good sense of software craftsmanship. You will be part of a small team developing an innovative 3D content creation software in an agile environment. Our team will closely collaborate with Adobe's UX design and research teams to turn groundbreaking ideas and technologies into powerful features in Adobe Substance 3D Painter!
What you'll Do
Develop and craft new features in collaboration with other developers, UX designers and product owners
Take maintenance and testability into account during implementation. Write unit and functional tests
Analyze and understand customer needs
Investigate/fix bug and performance issues
Review code and provide thoughtful, constructive feedback during code reviews
Respond to code reviews and welcome questions and constructive feedback
Take care of the development environment (build time, reliability, automation)
Participate in sprint planning
What you need to succeed
Good computer science fundamentals
Good design, debugging and problem-solving skills
Good background in C++ and modern C++ (C++17)
Good understanding of object-oriented and functional programming principles
Comfortable with agile development principles
Ability to work cooperatively with different teams
Comfortable working with large products and codebases
Ability to learn new technologies and to maintain a high degree of technical involvement
Willingness to learn in depth usage of our products
Video game and/or animation asset production pipeline and tools a plus
Graphics and/or image-processing experience a plus (OpenGL, Vulkan, Metal, Shading languages)
Knowledge in Python would be plus
Experience with Qt and modern CMake a plus
At Adobe, you will be immersed in an exceptional work environment that is recognized throughout the world on Best Companies lists. You will also be surrounded by colleagues who are committed to helping each other grow through our outstanding Check-In approach where ongoing feedback flows freely.
If you're looking to make an impact, Adobe's the place for you. Discover what our employees are saying about their career experiences on the Adobe Life blog and explore the meaningful benefits we offer.
Adobe is an equal opportunity employer. We welcome and encourage diversity in the workplace regardless of gender, race or color, ethnicity or national origin, age, disability, religion, sexual orientation, gender identity or expression, or veteran status.
Questions and answers about the offer
Add to favorites

Share on LinkedIn

Share on Facebook

Share on Twitter