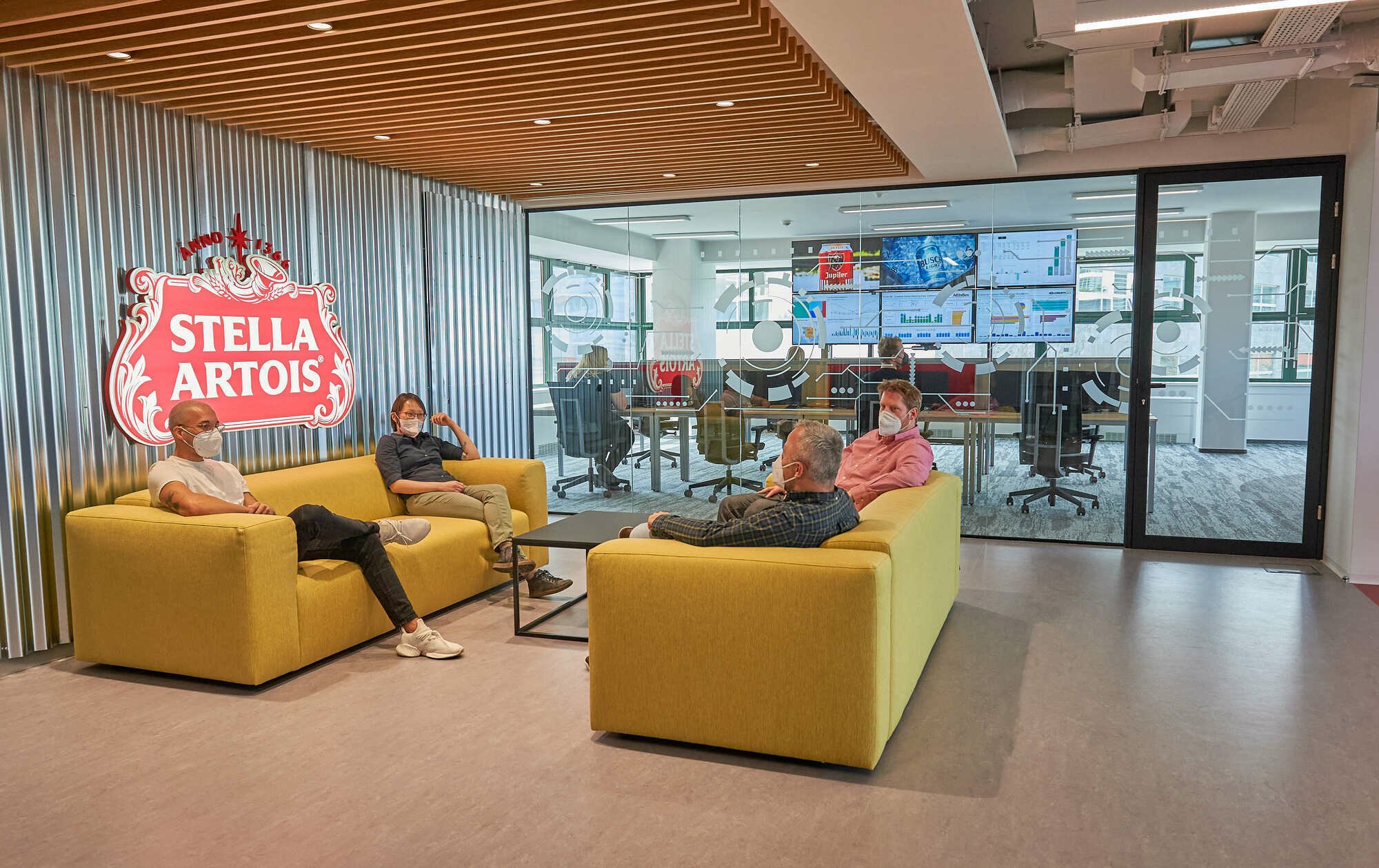 The brewing heritage of AB InBev dates back more than 600 years, spanning continents and generations. From the European roots at the Den Hoorn brewery in Belgium. To the pioneering spirit of the Anheuser & Co brewery in St. Louis, US. To the founding of the Castle Brewery in South Africa during the Johannesburg gold rush. To Bohemia and the first brewery in Brazil. The company produces over 500 brands of beers including world-famous household names such as Stella Artois, Corona, Leffe, Beck's and Hoegaarden. The AB InBev office in Prague provides support service to their European and global operations, with Logistics, IT, Procurement, Finance and People Business Service departments in residence.
Work with us in the Czech Republic
The employees of AB InBev are far from being sticklers for formalities; the atmosphere in the company is very relaxed. The offices form a small universe of its own: you will meet people from all over the world as the employees come from around 46 different countries and connect 61 nationalities. Furthermore, employees speak over 20 different languages. The Prague office is designed for work, collaboration and relaxation. For work, there are open concept floor workstations, agile meeting areas and hybrid agile meeting rooms. For relaxation there is a E-Sport game room, kitchen and an open-air terrace bar. The health and safety of AB InBev's employees is a priority, and the whole office is built with COVID-19 guidelines and measures at the forefront. In Prague AB InBev hire entry-level and more experienced talent with finance, logistics, operations and digital skill sets. The office language is English, but they often have a need for multi-language speakers with Dutch, German, French. Relocation packages are available for some roles. Apply for a vacancy to register your interest in working in the Prague capability centre.
Bringing People Together for a Better World
Sustainability isn't just part of AB InBev's business, it is its business. Their goal is that by 2025, 100% of purchased electricity will be from renewable sources. Their Prague Digital Hub contributes to our 2025 goal, as 100% of electricity used for our office lighting will come from renewable sources.
Globally, AB InBev produced approximately three million bottles of hand sanitizer and disinfectant manufactured from the alcohol by-product of our 0% ABV beers, which were donated to our heroic front-line health workers in over 20 countries. In Europe alone, 120,000 litres of these supplies were distributed.
In Prague, AB InBev supports the local community in various ways. During the COVID-19 pandemic they donated IT equipment to local schools to support families home-schooling their children. In 2020 they donated 0.0% alcohol beers to elderly homes that were severely hit by COVID-19, as part of their promise to bring people together – at a distance – for a better world.
"Dreaming big is in our DNA. Brewing the world´s most loved beers, building iconic brands and creating meaningful experiences is what inspires us.
Our people are curious, bold and resilient. We see challenges as opportunities, push boundaries and thrive under pressure.
We are owners, building a company to last. Empowered to lead real change, deliver results and grow at the pace of our talent. Through hard work and the strength of our teams, we can achieve anything."
ABInBev. Challenge Accepted.
Questions and answers on AB InBev Prague