Hive
Account Manager / Chargé de Clientèle
Plný úvazek

 

Počáteční datum:

 

Paris

Možnost pracovat částečně z domova

Bakalářský stupeň vzdělání

> 2 roky
Společnost
Hive
Software, Dodavatelský řetězec, E-commerce

Od 50 do 250 zaměstnanců
Nabídka
Account Manager / Chargé de Clientèle
Plný úvazek

 

Počáteční datum:

 

Paris

Možnost pracovat částečně z domova

Bakalářský stupeň vzdělání

> 2 roky
Tato pozice byla obsazena!
Who are they?
Notre vision c'est de permettre à quiconque de gérer et piloter son entreprise e-commerce. Nous voulons être le cerveau opérationnel de votre marque D2C afin que vous puissiez vous concentrer sur vos enjeux business et scaler votre activité en toute sérénité. 📦 🚀
Hive réinvente la logistique e-commerce en concevant des solutions sur-mesure répondant aux enjeux des DNVBs (Digital Native Vertical Brands). Hive gère les opérations des marques D2C (Direct-to-Consumer) de manière efficace et écologique, en opérant ses propres entrepôts en Allemagne, en France, et désormais en Italie, et en proposant une plateforme all-in-one qui intègre tous les éléments de la chaîne logistique d'un produit, de l'approvisionnement jusqu'à la livraison. Hive fournit en temps réel toutes les données clé concernant l'état des stocks, des livraisons et des retours, jusqu'aux prévisions de réapprovisionnement, et permet à ses clients de prendre les bonnes décisions en conséquence.
Fondée par Oskar Ziegler, Franz Purucker et Léo von Kleist en Juillet 2020, la plateforme se distingue des autres acteurs du marché par son engagement pour le développement durable et sa transparence en matière de gestion des opérations. Cette transparence passe également par la simplicité d'utilisation de sa plateforme, sans minimum de commandes ni durée d'engagement pour ses clients.
Visit the profile
Rencontrez François, Site Lead France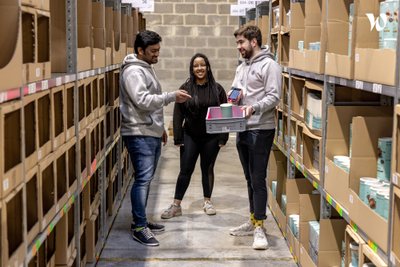 Rencontrez François, Site Lead France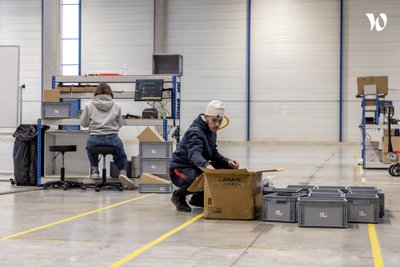 Rencontrez Maxime, Account Manager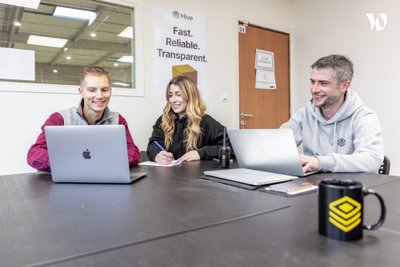 Job description
Join as one of the first hires in the account management team in France, and help maintain + grow our customer relationships with outstanding direct-to-consumer brands
Collect & analyze customer feedback closely with our product team to ensure we develop the best software product & service in the market
Onboard new customers to the Hive by introducing them to our software, ensuring all integrations work seamlessly and monitoring the first days of operations
Sell new software features & services to your customer base to optimize operations for each of your customers
Preferred experience
1 year experience in B2B Account Management, Sales, Customer Service or Business Development
You bring along an entrepreneurial mindset, a hunger for personal development and a passion for building lasting relationships
You have strong analytical as well as empathetic abilities to leverage in your communication towards customers
You love the responsibility of being the face of Hive towards our customers and the point of intersection between internal & external stakeholders
You speak English & French fluently
You have worked in a Start-Up, Software or SaaS company before; logistics experience is a plus
Most importantly: You share our vision of democratizing best-in-class operations for D2C brands
Our offering
Be part of the Hive. You will work with a highly driven team of exceptional and experienced people in all domains. People at Hive have worked at organizations such as McKinsey, Amazon, Shopify, Google, Flink, Blackstone, J.P. Morgan, DHL before. We believe in a culture of trust, collaboration, empowerment and constructive feedback in a positive and inspiring work atmosphere
Make an impact. Join a young company with an entrepreneurial culture operating at lightning speed — we want you to grow with us
You will be valued. We offer attractive compensation, including virtual employee stock options for all full-time team members plus your choice of hardware according to your preference
We support your wellbeing. Enjoy unlimited vacation days along with your own monthly wellness and productivity budget
We will get you set up. Operating system and hardware of your choice, additional tech equipment that you need, screens, you name it — we want to enable you to do your best work
There's more! Enjoy flexible working hours, free drinks and snacks in our office in Berlin, Paris or Milan and join regular team events such as off-sites and workations.
Hive
Máte zájem o tuto nabídku?
Questions and answers about the offer
Přidat mezi oblíbené

Sdílet na LinkedInu

Sdílet na Facebooku

Sdílet na Twitteru