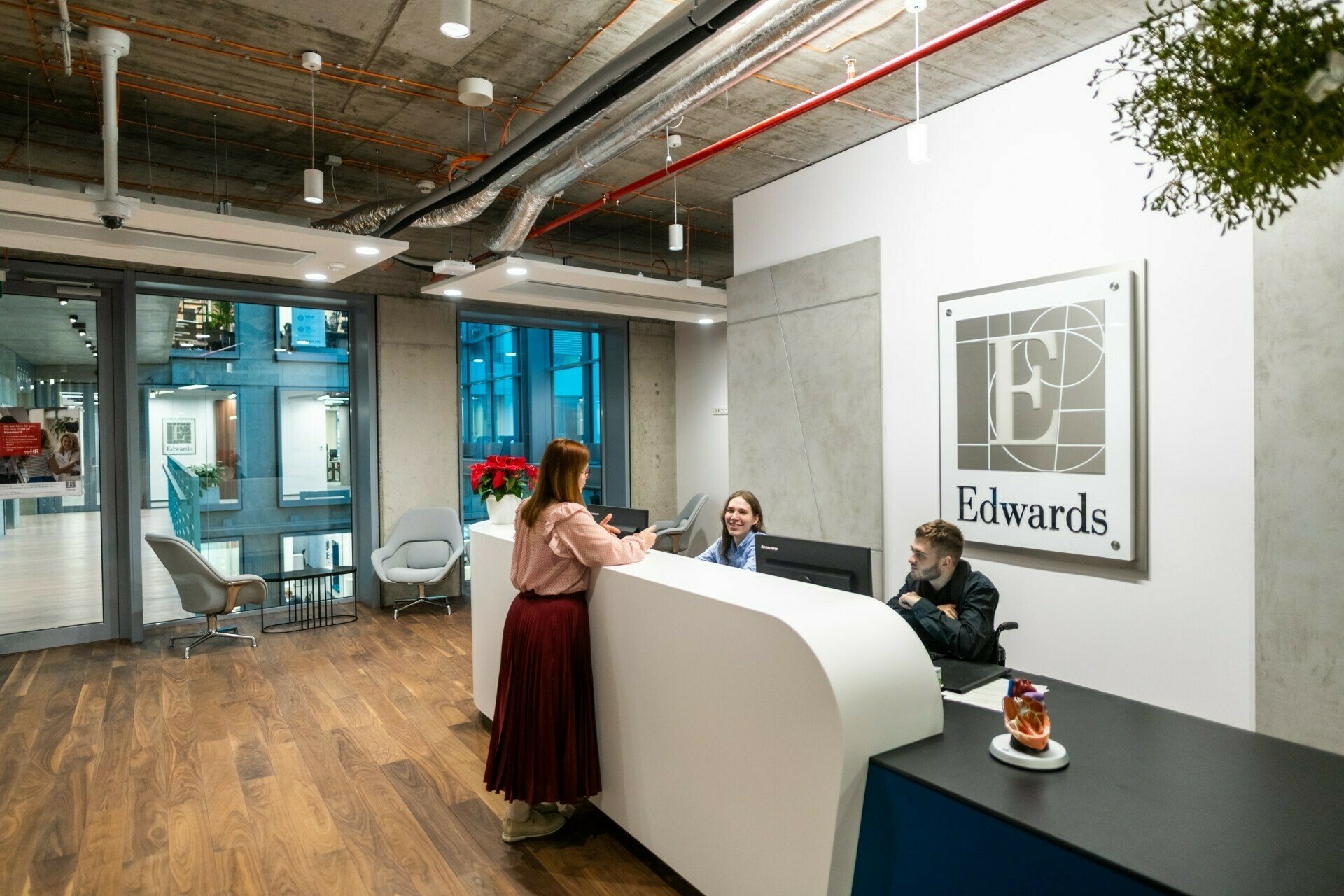 Edwards Lifesciences
Senior Specialist Professional Education - THV
Plný úvazek

 

Počáteční datum:

 

Praha

Možnost pracovat příležitostně z domova

3 rok VŠ

> 3 roky
Společnost
Edwards Lifesciences
Nabídka
Senior Specialist Professional Education - THV
Plný úvazek

 

Počáteční datum:

 

Praha

Možnost pracovat příležitostně z domova

3 rok VŠ

> 3 roky
Tato pozice byla obsazena!
About
Edwards Lifesciences is the global leader of patient-focused medical innovations for structural heart disease and critical care monitoring. They are driven by a passion for patients, dedicated to improving, enhancing and saving their lives.
There are more than 300 employees in the Prague business center, and more than 14,000 globally. The Edwards Prague office has a broad range of regional and global roles. The employee population in the Prague office is very diverse with more than 30 nationalities represented, therefore, English is the language spoken by all.
Joining Edwards means innovating, pushing boundaries and being creative while always putting patients first. It means solving challenges with colleagues who share a sense of urgency, optimism, and enthusiasm, colleagues who are focused on testing their limits and taking ownership. And it means that employees are empowered to get the job done by taking charge of their work, health and career.
Job description
Role Purpose:
Provides expertise and clinical insights on the device and procedure throughout the whole THV products life cycle. Drives execution for THV simulator strategy, is recognized as internal expert for procedural simulation. Supports and collaborates on development and execution of internal and external live or on-demand training and development activities on device preparation and THV implantation. The overarching aim is to train and develop internal and external customers' and key influencers' in the clinical use of the Edwards THV and optimize their awareness of the procedures, clinical benefits of THV products while ensuring the products are used correctly and safely while enhancing patients quality of life.
Key Responsibilities:
Collaboration on development of educational activities on all aspects of the device, device handling, implantation and troubleshooting techniques related to equipment, tools and products required for device implants.
Holds expertise in THV procedure simulation.
Support and active participation (training delivery) in Training & Development programs while overseeing and ensuring the technical and professional content is delivered in line with all EW guidelines and SOP and in the alignment with business needs.
Drives content development process, including digital content, video recordings (physician faculty, implantations), eLearning (SCORM), manages content creation via external providers and agencies as needed.
Monitoring and reporting (reoccurring reports/ ad hoc reports/ data analysis) on performance of Training & Development activities. Generating insights from in-person and remote learning interactions. Identifying new opportunities to deliver innovative T&D solutions.
Support on continuous improvement of training curriculum, training materials and training tools, based on clinical trial, initial launch and field experience.
Gathers inputs from wider team and across stakeholders to ensure high quality of training content (ensuring that content delivers on needs and objectives).
Drives content approval process
Learns the product(s), physiology, anatomy, applications and "language" of the market and Edwards Lifesciences.
Validate software and hardware updates in the field as applicable
Preferred experience
Education and Experience:
Bachelor's Degree in in related field , 3 Years years experience of previous related experience Required
Additional Skills:
Bachelor's degree required
Communication with HCPs and HCOs
Complex data analysis (advanced excel functions, business intelligence tool)
Proven collaboration and communication skills
Methodical process driven approach to work
Understanding of cardiovascular anatomy, pathology and physiology
Understanding of medical device regulatory requirements and documents, device accountability and adverse events reporting
Ability to work in sterile environment, cathlab stress management
Experience in execution of in-person and digital educational activities
Integrity, self-awareness and adaptability
Open to cultural differences
Collaboration and teaming skills
Verbal and written communication skills in English with good command of business English
Questions and answers about the offer
Přidat mezi oblíbené

Sdílet na Twitteru

Sdílet na Facebooku

Sdílet na LinkedInu