Braincube
Business Development Representative - German native
Plný úvazek

 

Issoire

Možnost pracovat částečně z domova

Magisterský stupeň vzdělání

> 6 měsíců
Společnost
Braincube
Artificial Intelligence / Machine Learning, SaaS / Cloud Services, Big Data

Od 50 do 250 zaměstnanců
Nabídka
Business Development Representative - German native
Plný úvazek

 

Issoire

Možnost pracovat částečně z domova

Magisterský stupeň vzdělání

> 6 měsíců
Tato pozice byla obsazena!
Who are they?
13 years ago, Braincube was born from a vision: factories will one day be driven by an artificial intelligence that will guarantee the best operating efficiency. By being able to understand in real time the complexity of manufacturing processes and the objectives to be reached, this solution would provide the optimal instructions to the machines' automatons.
Since 2008, Braincube, creator of the first industrial IoT platform, offers an algorithmic technology of artificial intelligence, systematically awarded by our customers' benchmarks and the most efficient solution on the market for problem solving and prescribing instructions in real time. We are on our way to the first autonomous factories.
Visit the profile
Rencontrez Laurent, Président Directeur Général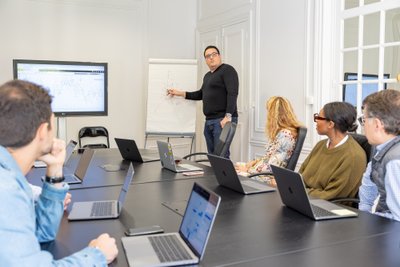 Rencontrez Alexandra, Responsable RH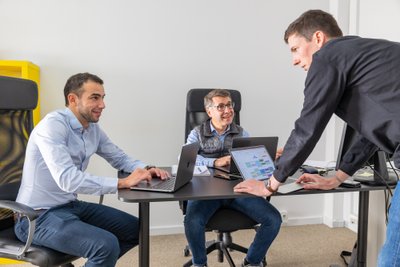 Rencontrez Florian, Business Developer Representative
Job description
Braincube is today the start-up on the way to become the world reference solution in AI for industry, and our project is ambitious. We are in a phase of hyper growth, with a workforce that should double within 3 years! In this context, we are looking for a Business Developer Representative to reinforce our European sales team.
The position and your missions
Within an autonomous multidisciplinary team in charge of developing a portfolio of industrial customers, your mission will be to exploit all the possible channels to feed the acquisition pipe of a maximum of qualitative prospects, to lead to the deployment of the Braincube solution with new industrialists, as well as to extend our presence with existing customers.
Thanks to your perfect command of the German language and culture, you will be in charge of developing our portfolio of German-speaking customers.
Your objectives are:
Generate your own prospect pipeline, and lead the qualification process independently
Meet with prospects to promote Braincube solutions
Participate in professional events to represent Braincube throughout Europe
Participate in the sale of pilot projects allowing new customers to qualify Braincube solutions
Work hand in hand with Marketing to enrich the pipeline of prospects
Salary: fixed package according to profile + variable de-capped
Office of attachment : Versailles
Remote work: this position is open to remote work, the percentage is to be discussed during the interviews
Preferred experience
Let's talk about you …
We are looking for a woman/man, Bac +5 type industrial engineer, or business school with an appetite for the industrial environment, passionate about new technologies applied to the factory world. A strong capacity of learning and adaptability particular to this market, without forgetting the desire to explode the ambitious objectives of growth of Braincube!
Your strong points are:
Your ability to listen and drive customers
Your ability to inspire confidence in our interlocutors
Your ability to identify the needs of customers and to adapt your speech to your interlocutors
Your ability to understand and adapt to a constantly changing environment
Your clarity of expression to convey Braincube's message
You speak German fluently and have been immersed in Germanic culture
And of course, your english is fluent!
Your team and environment
You will be part of the Sales Europe team (10 people) and report to the Business Development Manager
You will be integrated in a BTT (Business Transformation Team) composed of 2 Corporate Solution Architects, 2 Account Executives and 1 Business Developer Representative, with whom you will work closely to address the verticals assigned to you.
You will be supported by a lawyer in contract law.
You will work in collaboration with the Marketing team that promotes the Braincube offer to the market, and you will generate a flow of prospects
Salesforce is your daily tool to perform.
Your impact
Manufacturers are in the midst of a digital transformation and are looking for solutions that will make them more efficient, more profitable and leaders in their markets. The main goal of the mission is to deploy Braincube solutions worldwide, with maximum velocity.
You will be responsible for the quantity and quality of leads that will enable your TTO to reach its revenue targets.
We are technologically ready, the market is opening up, our ambition is to accelerate our growth and become the reference IOT platform for the industry.
Conclusion
94% of our employees have confidence in the company's project (internal survey December 2021). Do like them, become a Braincuber!
We offer you:
a recent and powerful workstation (MacBook Pro)
coffee and tea (fair trade) available in the office
flexible working hours, remote work possible
A single health insurance plan covered at 100%, works council with numerous advantages and discounts
company sports twice a week with a coach, a weekly yoga class in the office
actions in favor of parents (birth bonus, support for returning from maternity leave, etc.)
the possibility of carrying out a personal life project while keeping your job
numerous internal events (ski seminars, garden parties, drinks and social events)
an international working environment
We will be delighted to tell you more during our upcoming interviews.
At Braincube, skills are important but so are personality and passions!
Do not hesitate to share with us your interests and your professional or personal experiences.
Recruitment process
Recruitment process
Our recruitment process is fast.
We process applications daily.
STEP 1 : A first telephone contact of about fifteen minutes with Alexandra or Julien in HR
STEP 2 : Two physical interviews in Versailles: interview with HR, then interview with Florian, the manager, and Stéphane, European Sales Director
STEP 3 : A discussion with Mr. Laurent LAPORTE, CEO of Braincube
Onboarding process
We care about the onboarding of our employees and we will do everything to make you feel comfortable with us from the beginning ☺
We have in-house people dedicated to training.
If you would like to know the daily life of a member of our team, please contact Florian FACHETTI on LinkedIn!
Braincube
Máte zájem o tuto nabídku?
Questions and answers about the offer
Sdílet na LinkedInu

Sdílet na Facebooku

Sdílet na Twitteru