Adikteev
Senior Frontend Engineer
Plný úvazek

 

Počáteční datum:

 

Možnost pracovat plně z domova

> 5 let
Společnost
Adikteev
Mobile Apps, Artificial Intelligence / Machine Learning, AdTech / MarTech

Od 50 do 250 zaměstnanců
Nabídka
Senior Frontend Engineer
Plný úvazek

 

Počáteční datum:

 

Možnost pracovat plně z domova

> 5 let
Tato pozice byla obsazena!
Who are they?
ADIKTEEV - WHO WE ARE
Adikteev is the leading app re-engagement platform for performance-driven marketers. We help the world's top-spending app publishers increase retention, reacquire churned users and drive incremental revenue. App publishers in gaming, eCommerce, on-demand, services and entertainment rely on us to deliver made-to-measure strategies, creatives and algorithms. By combining science and creativity, we deliver best-in-class playable and interactive ads paired with top retargeting tech. We believe in creating a unique strategy for each client based on data to provide measurable and transparent results that increase user LTV and fuel business growth.
Adikteev is #10 among Inc. Magazine's Top 5000 fastest growing companies and ranked in the top retargeting partners of the world for two consecutive years by AppsFlyer Performance Index.
Adikteev has recently passed the 2022 HappyIndex®AtWork certification. As a committed employer of choice, our company has recently signed the French National Diversity Chart and is a member of the AFMD (aka "Association Française des Managers de la Diversité").
Adikteev is proud to offer a 4.5 day working pattern to all Adikteam members across the globe allowing us to secure a good work-life balance to all.
Visit the profile
Rencontrez Lamyaa, Data Engineer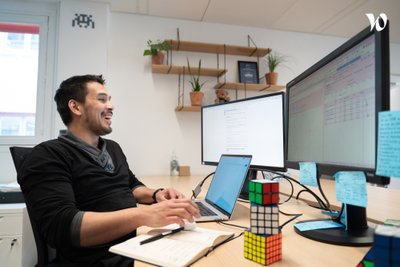 Rencontrez Taoufik, Chief Revenue Officer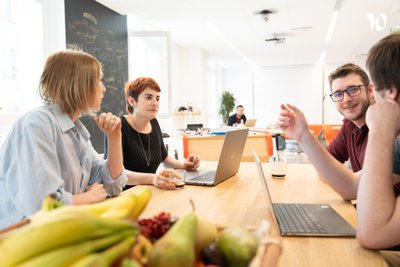 Job description
OUR NEED - WHAT WE ARE LOOKING FOR
We are looking for a Senior Frontend Engineer to join our Engineering team to help us in building the next generation of our platform.
YOUR CORE RESPONSIBILITIES
Build and take ownership of our data-oriented products. You will tackle strong data visualization, UI and * UX related challenges to deliver the best value to our end users
Teach us what we don't know and how you want to improve the user experience of our user facing products
Propose innovative solutions. Knowing how to explain and convince
Collaborate with all technical and product teams to develop and improve Adikteev products
Reduce technical debt. Modernize and improve the maintainability of the legacy part of the platform
Help define engineering best practices and processes
Preferred experience
KEY REQUIREMENTS
You might be the ideal candidate if you are a hands-on product builder with significant experience in developing efficient and user friendly applications. You should be at ease working in an agile environment with little supervision. You embody a passion for continuous improvement, a creative and innovative mindset as well as a focus on well designed and user friendly products.
Mandatory technical skills:
Good knowledge of JavaScript (ES5, ES6), TypeScript, the DOM, HTML, CSS
Significant experience with the React framework and ecosystem (Redux, React Query)
You have an experimental and creative mindset, you relish the opportunity to try new things
You have a passion for shipping quality code and a strong experience with automated testing framework
You have an eye for great user experiences
Willingness to go beyond what you know today
You like to help your colleagues
Nice to have:
You have experience building user facing data visualization products
You have some UI design skills
WORKING AT ADIKTEEV - WHAT WE OFFER
Exciting opportunities in a variety of functions such as product development, engineering, data analysis, business intelligence, sales and corporate.
A number of perks including 4,5 days weeks, a longevity bonus, mental health support, competitive insurance schemes, welcoming offices, treats & goodies and creative ways of communicating and working with one another, be it virtual or face-to-face.
A healthy, worthy and profitable organization whose ambition is to continuously enhance its market share through its innovation and unique identity.
Teams that think outside the box, and where the word "impossible" is banned from our common language.
Flexibility and agility applied to all our deliverables with a strong push for constant innovation.
A variety of cultures (22+ nationalities and growing), a diversity of backgrounds (education, experience, and personal journeys) but a unique goal: being bold and daring.
A socially responsible firm with a strong ethos when dealing with environmental topics, equal opportunities and diversity & inclusion (carbon footprint audit, innovative collective cooking sessions, women@adikteev conversational events etc.) : everyone is expected to walk the talk at Adikteev.
An open and transparent culture of communication with no hidden agenda.
As an Employer of choice, Adikteev does not and shall not discriminate on the basis of race, color, religion, gender, gender expression, age, national origin, disability, marital status, sexual orientation, or military status, in any of its activities or operations. These activities include, but are not limited to, hiring and firing of staff, selection of volunteers and vendors, and provision of services. We are committed to providing an inclusive and welcoming environment for all members of our staff, clients, volunteers, subcontractors, vendors and clients.
Adikteev
Máte zájem o tuto nabídku?
Questions and answers about the offer
Sdílet na LinkedInu

Sdílet na Facebooku

Sdílet na Twitteru