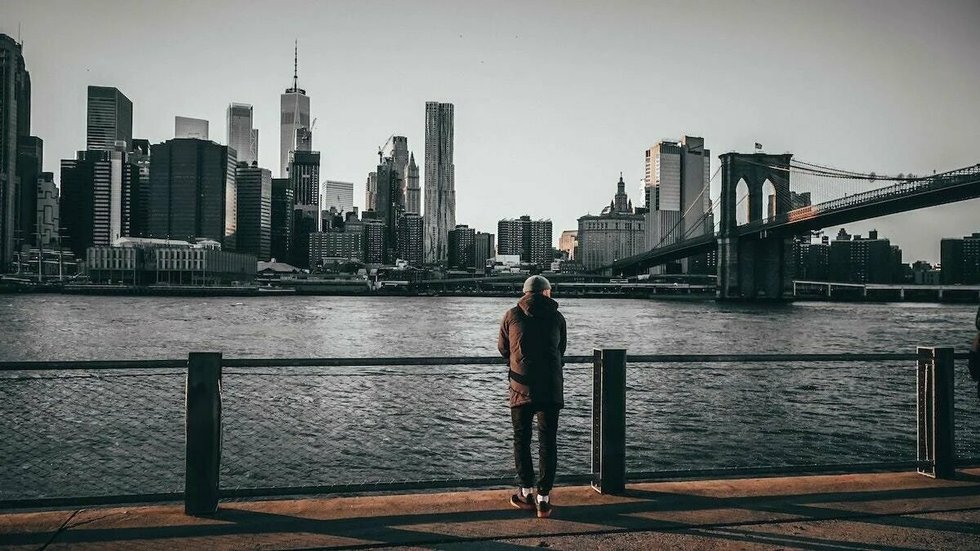 New York needs no introduction. There is little you can't find in the Big Apple. It's home to some of the world's most esteemed cultural institutions, best art galleries, and the most Michelin-starred restaurants in the United States. It's a global hub for media, for diplomacy, for culture, and for finance. Any big-city dreamer has New York on their list of relocation hotspots, and for good reason. But for all its glories, New York also has an equally long list of flaws. It's incredibly expensive and suffers from a huge amount of wealth inequality. Though it's home to the second highest number of billionaires in the world (behind Beijing), 17.9% of its residents live below the poverty line. It's a 24-hour city with a 24-hour work culture—but its crime rate is rampant. Let's be real: for some, New York is a city of dreams; for others, a city of nightmares. But is it the city for you?
The job market
There are few sectors that don't offer positions in New York. In 2021, 53 Fortune 500 companies were headquartered here, including JPMorgan Chase, McGraw Hill and Estée Lauder. Big tech firms such as Amazon, Apple and Meta also have large offices in New York.
New York has been called the world's media capital. Large conglomerates such as CNN, NBC, The New York Times, Fox, Reuters, Warner Bros and Hearst all have a major presence in the city. Two of the three most-circulated newspapers in the country (The Wall Street Journal and The New York Times) have head offices in New York. Much of the media that is consumed across the country is, in fact, created in the city.
Despite being an international hub, New York struggled to bounce back after the pandemic in the same way as the rest of the US. While 90% of jobs have been regained in the country as a whole, that figure is fewer than six in 10 in New York. The unemployment rate is 9.4%, compared to 3.9% across the country. The job drought is partially caused by the city's reliance on tourism, hospitality and retail. All of these industries rely heavily on tourists and commuters, and with tourism still struggling and only 8% of office workers at their desks, New York is still getting back on its feet.
Start-up central
You know what they say: "If you can make it there, you'll make it anywhere." And many start-ups have indeed made it here. According to Savills, NYC's start-up scene is the world's second largest, with more than 9,000 new businesses; it is valued at $147 billion. Although it has a way to go before it rivals Silicon Valley, New York is not short on perks. The Big Apple has much more diversity in its tech scene: 40% of tech employees are women and 21% are people of color. That's down to more diversity in the job market, which attracts a wider variety of people. And while Silicon Valley focuses only on tech, New York has fashion and advertising too.
The working week
Few aspects of life in New York are quiet, work included. There are few restrictions on the number of hours employees can work in a day or a week, and while 40-hour work weeks are common, it's within your employer's rights to ask you to do more. Overtime laws do apply, however, meaning that you must be compensated on an overtime rate. Sebastian Martin, who moved to New York from Norway and works for a human-rights organization, says the working week can be hectic. "Working culture in New York isn't necessarily great. I'm lucky in this regard, though: my employer is flexible as long as you get your work done. In that sense, you can take breaks whenever, unless there are things you need to be covering or available for. The downside is that we are also expected to cover urgent issues on weekends or evenings if need be."
Most office workers are either still fully remote or on a hybrid schedule in the aftermath of the pandemic. However, many big companies are trying to get staff back to the office.
Commute times can vary, but the average New Yorker spends 43 minutes on their journey, which is the longest in the country.
The plus is that many companies offer unlimited time off. Mark Williamson is vice-president at a global consulting firm. He moved to New York from Massachusetts almost eight years ago. "Most people take time off when they are able," he says, "and there really isn't a limit. This year my firm is testing a vacation policy of at least two consecutive weeks' paid time off and additional vacation as needed."
Who does New York suit?
They don't call it the city that never sleeps for nothing. If you're looking for a calm and tranquil life, then this is probably not the place for you. But if you're more of a big-city roller, look no further. New York boasts one of the most vibrant cultural scenes in the world, it's the setting for countless classic films and TV shows, and it's home to hundreds of global HQs. It also hosts an exceptional music and entertainment scene that's brimming with diversity. Many other cities across the US can offer you a stable job and a bit of entertainment, but for those looking for the ultimate city lifestyle New York is the undisputed king. "There's always something happening so it's easy to have fun," says Martin. "And it's a very open and accepting place. You can be yourself here—or whoever else you feel like being. It rewards eccentricity so you're unlikely to be judged for how you look, act or dress. People are very welcoming, inclusive and friendly."
Pros
Culture: New York City has 83 museums, 68 Michelin-starred restaurants, 41 theaters on Broadway, and more than 120 live-music venues. With all that culture and entertainment, it's difficult to say you are bored. There are few cities in the world that can compete with New York's cultural clout. Whether you are looking for Manhattan high society or offbeat counter culture in Brooklyn, NYC has something for you.

LGBTQ+ scene: New York has one of the world's biggest queer scenes. It's a beacon of LGBTQ+ activism, but also has a bustling gay nightlife and a liberal-minded population. Head to Greenwich Village, Hell's Kitchen and Chelsea to get to the eye of the queer nightlife storm. Along with the parties, New York also has the Leslie-Lohman Museum of Art, dedicated to the work of LGBTQ+ artists.

Diversity: New York is among the most diverse cities out there, with about 37% of residents born outside the US. Expect to find languages, cuisines and music from across the globe. Visit Chinatown, a chunk of Lower Manhattan that's home to the largest Chinese population outside Asia. Woodside in Queens has a 15% Filipino population, and is known as Little Manila. And NYC's hispanic population, at 28.3%, is almost as large as the white majority (30.9%).

Entertainment: There is so much going on in New York, and so many people to share it with. Whether you are out for drinks, or enjoying a sunny day in Central Park, summer is hard to beat. "Summer in New York is an experience in itself," says Victoria Cruz, a flight attendant who moved to the city from Puerto Rico six years ago. "The heat is terrible but it's such a collective experience. It's like there's so much to do, to see, to share."

Tech: New York is a massive tech hub. In 2020, big-tech companies Amazon, Google, Meta and Apple employed more than 22,000 people here. Of the 85% of companies planning to hire more tech talent, 87% claim they can find it in New York. Williamson says that while you'll work hard, you'll do it with some of the most talented people the world has to offer. "New York is a work-hard, play-hard city. If you enjoy working hard while spending nights and weekends on food, coffee, and walking through diverse streets with the chance of talented street performers or celebrity sightings, then New York lives up to the hype."

Waterfront: New York has transformed its waterfront into a promenade of green spaces. On a sunny summer day, check out Williamsburg's Domino Park for beach volleyball or the Brooklyn Bridge Park for panoramic views of the city.
Cons
Crime: One of New York's major flaws is its high crime rate. Figures surged at the beginning of 2022, going up by 38.5%. Residents complain that the city feels more unsafe than it did in recent years. "Crime has increased," says Cruz. "Everyone can agree it's a scary time in New York." Residents are looking for new ways to sidestep violence, she says. "For a while I lived in an oblivious bubble: the only crime I thought about was when I was taping Law and Order: SVU, but now I'm scared of being in the subway. Covid and Trump really unleashed anger in some people, especially the homeless. They receive a lot of help in New York compared to other cities, but the lack of mental-health care and harsh winters do not help. I bought pepper spray two months ago. Women especially are feeling the fear."

Cost of living: Like most megacities, New York is extremely expensive. In fact, it's the most expensive place to live in the US. Cruz says it's tricky to make ends meet. "I look at my bank account with fear. You always spend and think later. Having a nice life in New York is extremely expensive: drinks are overpriced, nothing is free. Rent? Ridiculous."

Competition: New York's long list of advantages means that the best and brightest often flock there, so it's a big town full of ambitious people. While opportunities aren't in short supply, there is fierce competition.

Covid-19: There are few corners of the world that have not been affected by the pandemic, but New York was hard hit and is struggling to get back on its feet. Businesses in the city have suffered from the change in working patterns. Many office staff are pushing back on returning to the city, favoring working from areas further from the hustle and bustle. While there are plenty of pluses for employees who continue to work remotely, the city suffers without their presence. Cruz says it's been a tough time for New Yorkers. "Friends of mine working in customer service at high-end stores are still seeing the bounce-back from Covid: New York is still recuperating from the mass exodus at the height of the pandemic," she says. "Patience and respect have been stretched thin."

Not a long-term choice: The price and pace of New York mean that for many, it's not a place they want to settle in. "I'm happy to have experienced it and I can see how people grow attached to it," Martin says. "I notice some anxiety, too, at the thought of leaving, which I likely will by the end of 2022. The city is too mad, busy and extroverted for me in the long run. I don't need all of that, but when you're here it's hard not to engage with it all."
Practical information
Rent: Rent in the city is not cheap: on average, a New Yorker spends 30% of their income on it. Manhattan takes the cake in the price market, with the average apartment costing a staggering $4,210 a month. The island also boasts some of the most expensive real estate in the world. Brooklyn and Queens have more affordable options, and if you share with a roommate that can further cut costs. Plus, in most New York apartments utilities are included in the rent, especially in older buildings. If not, you can expect to pay less than the national average: around $136 per month compared to $190 nationally.

Transport: New York's subway, the Metropolitan Transport Authority (MTA), is the biggest in the country. Tickets start at $2.75 and get more expensive depending on your destination. A monthly pass costs $127. You can also get around by ferry, at $2.75 a ride. And luckily for Staten Island residents, the ferry is free. Most New Yorkers travel by bus, subway or taxi. Unlike many other cities in the west, Uber and Lyft have not taken over: yellow cabs are still cheaper!

Language: English is the most commonly spoken language in New York. However, given the city's diversity, you will hear tongues from all over the world, from Spanish to Yiddish.

Visa: Getting a US visa isn't always easy. Those who don't hold a US passport will need their employer to sponsor them. Canadian and Mexican citizens can obtain nonimmigrant NAFTA Professional visas as well.

Currency: New York, like the rest of the United States, uses the US dollar ($).
Photo: Welcome to the Jungle
Follow Welcome to the Jungle on Facebook on LinkedIn and on Instagram and subscribe to our newsletter to get our latest articles every day!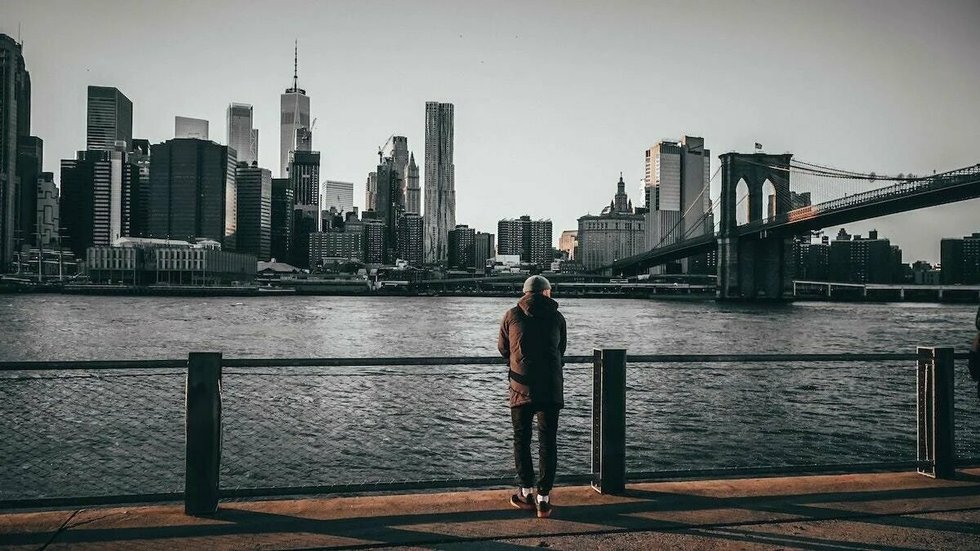 Hledáte svou další pracovní příležitost?
Více než 200 000 kandidátů našlo práci s Welcome to the Jungle
Prozkoumat pracovní místa